Take action and help support The Groundwater Foundation's work! Your tax-deductible donation connects you with widespread groundwater education and protection efforts, making you part of the solution for clean, sustainable groundwater.
---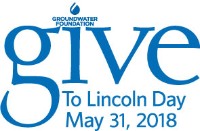 During the month of May, make your gift as part of Give to Lincoln Day. All donations made as part of Give to Lincoln Day will be bigger, as each gift helps The Groundwater Foundation earn a portion of a challenge match fund. Give now
---
Use the form below, or contact us at 1-800-858-4844 or info@groundwater.org to donate or become a member today!