Juniors: Let's Keep it Clean!
Investigate water and energy.
While earning these patches you will learn more about how water and energy are connected.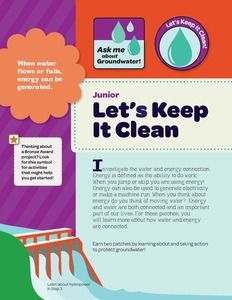 Purchase your Junior patch booklet here!
Patch booklets are also distributed through the Girl Scout Spirit of Nebraska.
Girl Scouts in Nebraska can also earn patches by attending one of the Let's Keep it Clean! events! Refer to your Program Guide or contact Girl Scouts Spirit of Nebraska for more information.
Program questions can also be directed to girlscouts@groundwater.org.
Find activity ideas and instructions to help you earn your Let's Keep It Clean and Ask Me About Groundwater patches.