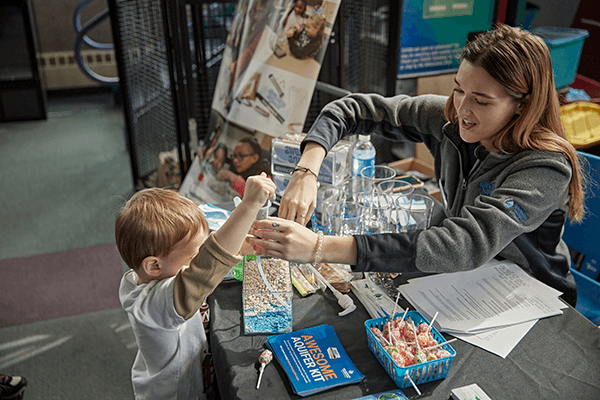 NGWA's Groundwater Foundation and members of the groundwater profession helped celebrate Groundwater Awareness Week on March 12 at Science Central, a hands-on learning science facility in Fort Wayne, Indiana.
Groundwater professionals from Franklin Electric and Amstutz Well Drilling, as well as NGWA staff members, joined in the celebration.
Science Central bills itself as a "catalyst for learning," and there were activities inside and outside the facility. Booths, hands-on activities, and the presentation "Make Water Happen" allowed visitors to learn more about the importance of groundwater and the challenges communities face in keeping it clean and bringing it to the surface.
Amstutz Well Drilling, located in Leo, Indiana, drew attention to the event — and the scale of equipment required to move groundwater — by showcasing its drilling rig at the center's entrance.
Inside the center, Franklin Electric staff and NGWA team members Haleigh Contino and Maggie Herrmann hosted a variety of learning stations geared toward kids of all ages.
In addition, Franklin Electric donated 200 Awesome Aquifer kits as part of the educational efforts. The NGWA's Groundwater Foundation developed the kits, which contain the materials needed to build a model of an aquifer. Science Central plans to utilize additional kits for school, camp, and scout programs.
"It's always great when we are able to work with partners who share a dedication to expanding groundwater education and finding new ways to connect with students," said NGWA CEO Terry S. Morse, CAE, CIC. "This was a great example of organizations coming together to lift up our industry and help secure the role of groundwater in our future. We would like to thank Franklin Electric and Science Central for all they did to make this event a success."
Groundwater Awareness Week is a nationwide effort to bring public attention to the importance of groundwater and the critical work groundwater professionals do.
Click here to learn more about Awesome Aquifer kits from The Groundwater Foundation.